The Great Dinosaur Mystery And The Bible Part 3
Fairy Tales and Fabrications is the next segment Taylor displays in his book, film, and site. Creationists like him are known to falsely and hypocritically accuse evolutionists of promoting fairy tales to people, claiming that "believing in evolution is like believing in fairy tales" as the radio program The Children's Bible Hour (an endorser of young earth extremism) puts it. One of the purest example of this, of YECs claiming evolution to be "fairy tales for adults," which the statement is nothing but a quote taken out of context, is found here. Yet, they turn around and promote fairy tales of their own. One of the infamous fairy tales creationists tell is the fairy tale of dragons being dinosaurs people saw in ancient history. Since they have no valid evidence of people meeting up with dinosaurs in the fossil record, YECs foolishly resort to legends, folklore, mythology (mainly all about dragons), elaborate hoaxes, and cryptozoology and cite them as evidential "reports" made by those who claimed to have seen live dinosaurs rather than admit the truth that no humans were alive back then when dinosaurs walked the earth. Even if all those things were true, each and every fabrication and hoax creationists promote fails to explain why there are no dinosaur remains found above and below the Mesozoic strata and why are there no dinosaur remains found mixed humans, let alone fossilized remains of Permian reptiles, Early Cenozoic mammals, Devonian Trilobites, and modern animals.
The Real Origin of the Dragons
Dragons and Dinosaurs are only 2 separate groups, one real, the other fictional. The reason why creationists equate dinosaurs with dragons is obvious. Dragons were inspired by discoveries of fossil remains of dinosaurs and other Pre-Pliocene animals made by ancient people who couldn't make heads or tails of what they really were. So to help explain the bones, people went about inventing stories about ancient monsters, giants, and dragons with serpentine bodies, bat or bird wings, woman's breasts, impenetrable scales, one or multiple heads, dog-like ears, 4,2, or no limbs, and fiery, poisonous breaths. These stories persist until the 17 and 1800s' when people begin to finally realize what they really were rather than being remains of dragons and giants of ancient folklore.
This gave creationists the excuse to spread lies about them, saying that these Mesozoic monsters were once called dragons before they were given the name "dinosaurs" in the mid 1800s'. So, to fit them into their dogma, creationists went forth and change, fabricate, and rewrite the dragon stories to portray them as living dinosaurs that were called "dragons" before they were hunted to extinction by man by the 1700s', only to afterwords unearth their remains, rename them "dinosaurs," and display them in natural history museums all over the world. Thus, dinosaurs and dragons are one and the same monsters people saw, fought, and killed in folkloric accounts….or so they reason.
There's one major flaw to this logic. Dinosaur bones weren't the only bones that have inspired people to invent the legend of the dragon. Live sightings of crocodiles, python snakes, and especially fossil remains of Ice Age mammals, like the cave bears that were found inside the caves up in the Carpathian Mountains for instance. These fossil bears once thought to be winged dragons that once lived in caves way up in the mountains (Citations here. NOTE: Scroll down to Dragons of Carpathian Caves) Also, there is another dragon legend that tells about a fearsome dragon that once terrorized Klagenfurt, Austria until it was finally slain and beheaded. Its head was taken to a town hall where it was used as a trophy until it was discovered that the head of the dragon was in fact a skull of a woolly rhinoceros that was unearthed somewhere in the region long ago. That skull which inspired the legend was used as a role model for a dragon statue created to be a part of a fountain which stands in the city to this day.
Does this mean the bears and the rhinos of the Ice Age era should be called "dragons" before they were renamed as "cave bears" and "woolly rhinoceroses" in recent years and thus, dragons were really live cave bears and woolly rhinos people saw, fought, and killed long ago in mythology and folkloric legends? Of course not! That would be absurd. If there's no sense in regarding bears and rhinos as dragons people saw, fought, and killed in legends, then there no sense in regarding dinosaurs the exact same way. Especially when dinosaurs, woolly mammoths, and cave bears never looked like this, this, and this.
The Evolution of the Dragon
The "dragons" of supposedly ancient myth that creationists want to stupidly equate with dinosaurs is in fact a modern creation (late middle ages) with a traceable development as popular myth. Dragons, like all folklore, evolved over time, only entering a relatively fixed form when stories began to be written down. Going back to ancient Greece, dragons are recorded by Pliny the Elder in his Natural History records dragons as very large python-type snakes, huge enough to coil around and constrict elephants to death. Indeed, the word dragon derives from a Greek epithet drakon meaning 'snake'. Over time, the image of dragons in myth changes. They adopt more lizard-like features, add bat-wings (which dinosaurs never had), develop first venomous bites, then the ability to spit or drool venom, then steaming venom, then fire. The shift in the image over time, only in later times becoming something which resembles a Hollywood caricature of dinosaurs, clearly reflects a myth, and its origin as snakes denies the creationist claims that they record actual contact with dinosaurs.
Still the young earth extremists continues to promote this drivel and the best example of how creationists promote fairy tales as fact is found in Taylor's book, where on pages 36-49 and on this page, too, Taylor gives out what he believes to be evidence of "post-Flood" dragons being actually dinosaurs people saw, fought, and killed that are all nothing more than fabricated fairy tales.
Image Distortions
No dinosaur in fact ever resembled snakes and serpents in one form or another. But, YECs like Taylor in their ignorance don't buy it. In fact, much of his book, video, and website contains stories of what he claims to be "proofs" that dinosaurs and dragons are one and the same and man met up with them. In reality, these are all fabrications creationists made up by taking parts of mythology and folklore out of context and twisted them around to make them as if they are what they claimed to be. And the first thing Paul shows in his book on page 36 is 3 images of scenes involving dragons shown above in comparison with 3 images of dinosaurs shown at the bottom in a attempt to convince the lay reader of how similar these monsters are in comparison. But not one of them match each other, even down to the finest detail. For example, one image shows a dragon from a famous paining depicting St. George killing a dragon. At the bottom of the image, there is an image depicting Compsognathus. Look at them closely in the book and you will find that there really are NO similarities between the two. Compsognathus in the picture has bipedal, fully erect stance. It never had a curly tail, a narrow forked tongue, nor did it had bat-like wings. Instead, Compsognathus has a straight stiffened tail and possibly a coat of feathers covering all over its body. This image of Compsognathus is a cheap rendition of Rod Ruth's Compsognathus illustration as seen in a well known classic dinosaur book, The Album of the Dinosaurs. As for the dragon in the painting, the dragon was cropped off from this famous painting made by Rogier van der Weyden to hide the fact that the dragon in the painting is shown to have only two limbs while Compsognathus actually has 4.
The second image shows a head of a dragon or one of the heads of the chimera, a monster with a head of a lion, a body and head of a goat, and a tail of a snake in a distorted comparison with the image of a Saurolophus, which is a cheap knock off version of a Neeve Parker painting as seen in full view in John Mann's dinosaur classic The Day of the Dinosaur. Saurolophus, in the picture, is anatomically incorrect as it lacked cheeks and a duck-billed beak. The hand arrangements on him are not right either. In fact, Saurolophus actually was a dinosaur with a 4 limbs, stiffened tail, cheeks, duck beak, hunched back, mitten fore hands for ground support, and a spike like crest that may have supported a sheet of skin that stretched from the neck all the way to the tail.
And finally, the third images shows a knight killing a dragon being compared to an image of a Rutiodon, a Late Triassic crocodile-like archosaur called a phytosaur, not a dinosaur. Unlike the dragon in the picture, Rutiodon had nostrils right near its forehead, not at the tips of its snout like modern crocodiles have. This is the way to distinguish phytosaurs from crocodiles for Rutiodon unlike modern crocodiles never saw a human being. But, crocodiles, snakes, and other reptiles along with sightings of fossilized remains of dinosaurs and other prehistoric animals, as mentioned before, may have been one of the factors that made up the stories of dragons and other mythical beasts of ancient times.
How Fossils Inspired Mythology
For one example, according to historical accounts, a team of explorers from Greece came upon a cave where inside of the cave they found what appears to be skulls of prehistoric elephants, like the Mastodon, for instance and became terrified of them. Thinking that they came upon the tomb of a fearsome race of one-eyed giants living in the region, they raced out of the cave and began to spread stories about one-eyed giants called Cyclops that lived in caves and preyed upon people. According to another account, a team of Asian explorers in a desert in Mongolia came across fossilized remains of Protoceratops they sworn them to be the bony remains of a half eagle, half lion monster known as the Griffin and began to spread stories about them saying that the griffin is known to guard a large horde of gold for the gods and defended them from thieves, even to the very death. Unlike Protoceratops, the Griffin has wings that enables it to fly. And the hole in the center forehead of the Mastodon what the explorers thought of them as the eye sockets of the giant is actually a opening for the Mastodon's trunk. These are a few examples of how mythology may have been inspired through sightings of fossilized remains of dinosaurs and other prehistoric animals long before the concept of science has ever been grasped.
Using dragon lore, as evidence that dinosaurs lived with man is not really evidence at all. Dragon stories all prove nothing and it is a very bad science to use these legends, myths, and fairy tales as an attempt to prove anything like what Paul tries to prove here.
Paul's Fabricated Lies
Story 1
One "dragon" story from the ancient land of Sumer in Babylon tells of the hero Gilgamesh. He decided to make a name for himself by traveling to a distant land to cut great cedar trees needed for his city. He reached the forest with fifty volunteers and discovered a huge reptile-like animal which ate trees and reeds. The story simply says that Gilgamesh killed it and cut off its head for a trophy.
Rebuttal: According to the illustration found on page 37 as well as on this page, we see Gilgamesh battling a Brachiosaurus like dinosaur. Both the illustration and the story is all fabrication. The dinosaur is not drawn right because of two things: splayed toes and Apatosaurus-like body. These features are what Brachiosaurus never had and the story itself is a direct fabrication of the Babylonian tale of Gilgamesh killing a humanoid demon named Humbaba (or Huwawa) with a face of a lion ("When he looks at someone, it is the look of death."). In other versions of the tale, however, his face is said to resemble "coiled entrails of men and beasts" or intestines.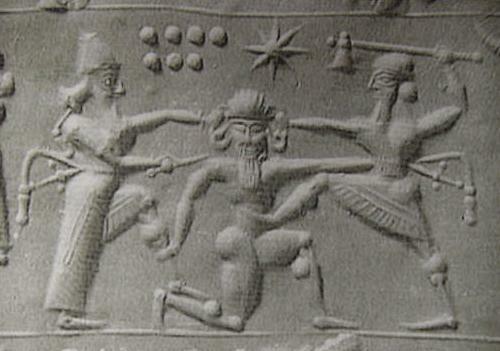 With a help of his friend, a half wild man named Eniki (or Enkidu), he killed the horrible demon-guardian of the forest by chopping off his head after he uses deception to capture him. Humbaba begs for mercy, but, Enkidu convinces Gilgamesh to slay and decapitate the demon. When the god Enlil, who was Humbaba's master and creator, discovers Humbaba's murder, he laid a curse on both his killers and sent each of the seven splendors (or auras) that once belong to the slain demonic ogre to the fields, the rivers, the lions, the palaces, the forests (or hills), the field of reeds, and finally to Nungal, the goddess of prisoners and captives.
"…which ate trees and reeds" part is fabricated from another Gilgamesh tale which tells of a supernatural beast known as The Great Bull of Heaven named Gugalanna, a bovine deity believed to be responsible for a severe drought that overtook the land by eating up every tree, every reed, and other forms of vegetation while drinking up all the waters from the rivers and lakes in just one gulp. Gilgamesh and Enkidu both went out and killed the beast to end the drought. Inanna, the goddess who sent the Bull to Earth to punish Gilgamesh for refusing her sexual advances, became outraged and let out a huge cry. Enkidu threw part of the Bull hindquarters to her, threatening to do the same to her as he did to the Bull if she dared try to challenge him. Thus, leading himself to face his own demise for this blasphemous act.
Rebuttal To An Old Roman Mosaic Claim
There is a old Roman mosaic shown in the book on page 38 of what appears to be 2 horned headed sea dragons with their necks entwined with each other being compared with an image of a Tanystropheus taken from The Day of the Dinosaur. Taylor is his blatant ignorance don't realize that Tanystropheus neither has horns on its head, nor a flexible neck. The neck of Tanystropheus is very stiff and lacked horns on its head. Plus, the monsters in the mosaic have only 2 legs while Tanystropheus have only 4. The monsters it seems have a fish like tail while Tanystropheus only has a normal reptilian (albeit stub-like) tail. The creationists must have covered up the ends of the monsters so that no one will know the real truth behind them. Also, they have fish heads kind of forged at the shoulder areas of their bodies to make them, in a way, resemble a chimera type creature. Looking at them closely, those monsters' heads could closely resembled Synthetoceras, a prehistoric deer from the Miocene Epoch about 12-9 million years ago. Perhaps some Roman explorer found the remains of this creature and made a picture of what the creature may have looked liked on the Mosaic. If so, then creationists like Taylor distorted the image on purpose.
Rebuttal To A So-Called Dinosaur Drawing Claim
The so-called Native American carving of an Edmontosaurus shown on page 39 is actually a scorpion with a severed arm. Otherwise, according to Adrienne Mayor's Fossil legends and The First Americans (pg. 337, 403), the rock carving is now likely a first attempt made by early fossil hunters to reconstruct fossil remains of plants and invertebrates found nearby the site. However, according to Institute for Biblical & Scientific Studies (IBSS) February 2008 article, Dr. Stephen Meyer made better sense when he concludes that the petroglyph actually depicts an eagle, a modern dinosaur. Thus, what Hubbard discovered was indeed a dinosaur— a modern dinosaur we call a bird.
In reality, Edmontosaurus never looked like what it is depicted in the picture next to the photograph, either. It looks more like another cheap art version of a Neeve Parker painting as shown in The Day of the Dinosaur than what Edmontosaurus really does look like based on fossilized evidence.
Speaking of evidence, Carl Sagan, (1934-1996) a famed scientist makes this following quote, "Extraordinary claims requires extraordinary evidence." In other words, since there is no real true extraordinary evidence for everything Taylor promotes, then there is indeed no sense of ever accepting his dragon/dinosaur falsehood.
Falsehood About Alexander The Great's Discovery
Story possibly shown in the updated version of the book:
In the creationists' own reasoning, any large reptile is a dinosaur no matter what it looks like (Never mind that the word "reptile" doesn't necessary mean "dinosaur"). In the "updated" version of Paul's book, there is a claim that involves Alexander the Great and his army, who were invading India at one time, being shown to a cave where it contained large hissing serpents (reptiles) the Indians kept inside the cave to be worshiped as gods. According to the unfabricated version of the tale, Alexander the Great and his army only saw one serpentine dragon, blowing, hissing, and popping only its head out of the cave from time to time whenever an army passes by. The serpent is said to measure about 120 feet long and has huge eyes the size and shape of a Macedonian shield. No dinosaur eyes were ever that big, nor did they have serpentine bodies.